Hi all,
Has anyone had any experience with sewing nylon webbing material together? The kind of thick industrial stuff you would find as straps on backpacks.
I have a small side project for putting up a portable antenna mast. These things exist for a similar product to mine: Spiderbeam GB 18m - Nevada Radio and are used to fasten guy lines to it, much like a tent, to stop it from falling down.
It's stupid simple really - it's 3 or 4 folded 'prongs' of webbing with a hole in the middle, which somewhat precisely fits over the mast so it sits at a particular height. Here's a technical diagram I drew in my favourite CAD program: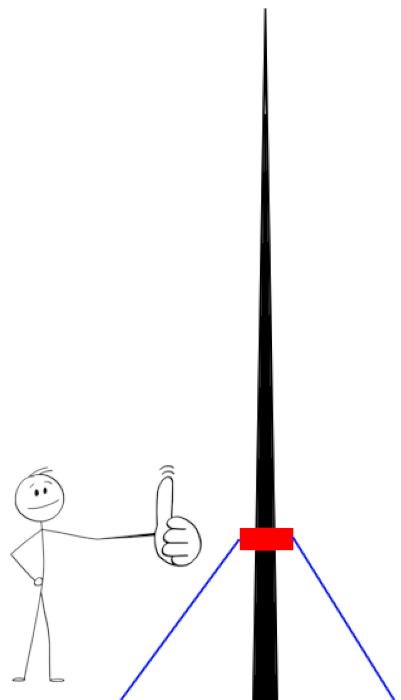 I'd like to improve it, by:
Adding some metal/plastic D rings to the ends to make it easy to add/remove guy lines.
Make a few, sized for different positions on the mast I have.
Having 5 legs/prongs rather than 4 for different guying configurations (three-legged stool vs fancy dining chair)
Not having to pay £20 for a flappy bit of material that actually costs a few pence
Bonus points for somehow adding a label to identify where it's supposed to go
Extra bonus points for turning it into a cottage industry so I can retire early.
I've tried sewing this strap material before with a sewing machine that was pretty clearly not up to the task of the thick material, with similarly rubbish results.
I found this YouTube video of someone using an old-school manual Singer to add a 'box X' stitch and makes it look embarassingly easy: https://www.youtube.com/watch?v=y03wcd_Z1G4
These routinely go for £20 on Facebook marketplace and I remember talking to @Heather_Gilligan once upon a time about getting one for the space.
If anyone is willing to deal with my complete inability to handle sewing projects for 30 minutes or so and help me out with trying to make some of these, I'd gladly donate a machine to the space for future use as well as my eternal gratitude.